Lotte Lehmann: Singing That Moved the Stars
A revision of an article published in Classical Singer magazine, November 2003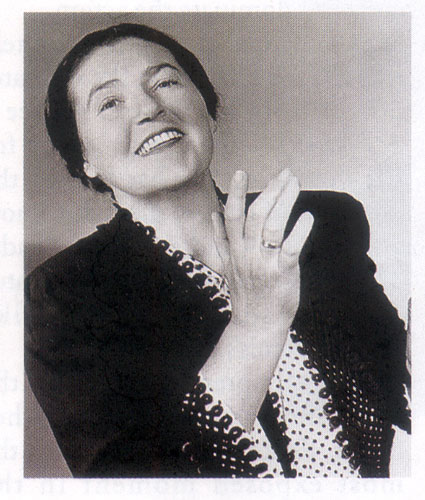 Many opera fans lament the passing of the "golden age" of singing. This golden age, according to these mavens, reached its pinnacle in some previous generation, whether that of Maria Callas and Giuseppe di Stefano, Kirsten Flagstad and Lauritz Melchior, Enrico Caruso and Rosa Ponselle, or even before the era of recorded sound. The heights reached by these singers, we are told, can never be equaled. What usually follows is a tirade against present-day singers who lack the purported vocal prowess, individuality or passion of these artists.
Young singers often feel insulted by these tirades, unappreciated for their own dedication and sacrifices. They feel belittled by an ideal it seems they can never attain, an ideal that—in recordings and to their bruised egos—sounds more like out-of-tune caterwauling over distracting snaps, crackles and pops.
Many voice teachers even advise their students against listening to recordings of bygone singers, so as to avoid picking up bad vocal habits or copying the artistic choices of other singers. Yet these same recordings are an invaluable resource available to any present-day singer who wants to become acquainted with the legacy of those who have gone before. A survey of these artists provides both an object lesson and an inspiration to all of us who aspire to the same excellence. True artists do not exist in a vacuum. The legacy of those who have gone before needs to be explored in all its breadth and depth, so that our own artistic choices may be informed by their example, good or bad.
This article explores the life, career and voice of Lotte Lehmann, one of the most beloved, distinctive and passionate singers of the last century.
I can't think of any other singer I'd rather listen to than Lotte Lehmann. Her otherworldly connection with the text, the plangency and warmth of her voice, her ability to create character through the simplest and most direct of means, the humanity and generosity of her artistry: All of these things keep me coming back to her recordings time and time again.
Lehmann's flaws were many, and quite apparent to those who choose to seek them out: a shortness of breath, a tendency to swim through harder vocal passages (as heard in her vivacious recordings of Rosalinde in Die Fledermaus and Frau Fluth in Otto Nicolai's Merry Wives of Windsor) and an occasional musical impetuosity that sometimes comes off as carelessness. To some listeners, these failings prove impossible to ignore—but to those who love her, and they are many, the force of her artistic personality overrides any serious reservation.
Lehmann was a Renaissance woman: a teacher, writer, painter, stage director and movie actress whose efforts in these areas exhibit the same non-judgmental effusion found in her singing. She was as capable as the next soprano of carrying on a major operatic feud, and her extramarital romantic involvement with a certain conductor is well documented. And yet, unlike Maria Callas, whose artistic achievement is often overshadowed by such extramusical concerns, we remember Lotte Lehmann today solely for her artistic achievements.
Charlotte Sophie Pauline Lehmann was born in Perleberg, a small town in northern Germany, on Feb. 27, 1888. She began her musical studies in Berlin, where her initial plan was to become an oratorio singer. Upon her introduction to opera, however, her aspirations shifted, though she was dismissed from the Etelka Gerster Music School and her scholarship canceled for failure to respond to the teaching methods of Eva Reinhold, one of Mme. Gerster's assistants.
In spite of this vote of non-confidence, Lotte was not to be thwarted. She wrote to Mathilde Mallinger, the first Eva in Meistersinger, and began to study with her immediately. She responded positively to Mallinger's methods and made her debut as the Second Boy in Zauberflöte at the Hamburg Opera in 1910. Her first appearances were not distinguished. She was awkward and stilted onstage, only gradually learning to trust her instincts, cultivating the supreme stage presence for which she became renowned.
Lotte had her initial success in the ingénue role of Anna Reich in Lustigen Weiber von Windsor. From there, Otto Klemperer convinced the management of the Opera to present her as Elsa in Lohengrin. In this role she achieved enormous popular approval and fame, which spread like wildfire. In 1914, she appeared as a guest at the Vienna Hofoper (Staatsoper), singing Eva in Meistersinger, and became a permanent member of the company in 1916, singing Agathe in Freischütz.
That same year, Richard Strauss was preparing the premiere of his revised version of Ariadne auf Naxos, with its newly composed prologue. Lehmann was deputized in a rehearsal for an indisposed Marie Gutheil-Schoder, a significant artist, if a flawed singer, who was to create the role of the young Composer. Strauss was so taken with Lehmann's work that he asked her to sing the role of the Komponist in the premiere, thus assuring her place in operatic history.
Lehmann herself wrote of the experience in her 1964 book Five Operas and Richard Strauss, which also contains her insights into other Strauss operas significant in her career: Die Frau ohne Schatten (in which she created the Färberin (Dyer's Wife) in 1919, also in Vienna); Intermezzo (in which she created the role of Christine Storch in Dresden in 1924); Arabella (in which she created the title role in the Vienna premiere, the day after her mother died); and Der Rosenkavalier, in which she was the first soprano to sing all three roles—Sophie, Oktavian and, most significantly, the Marschallin—for which she set a standard still untouched after many years.
Other composers impressed with her artistry include Giacomo Puccini, who was particularly taken with her portrayal of Suor Angelica in his opera of the same name, (she also sang Mimì in La Bohème, Giorgetta in Il Tabarro and the title roles in Manon Lescaut, Madama Butterfly, Tosca and, more surprisingly, Turandot) and Erich Korngold (she created the title role in Das Wunder der Heliane and was a famous Marie/Marietta in his most famous work, Die tote Stadt).
Conductors with whom she had close associations, besides Klemperer, included Arturo Toscanini and Bruno Walter. She had a passionate affair with Toscanini, and in 1935 sang Leonore in Beethoven's Fidelio—considered by some to be her finest role—under his baton in Salzburg. Walter conducted her first Marschallin in London in 1924. Lehmann recorded her unforgettable Sieglinde in Die Walküre with Walter, who also accompanied many of her Salzburg lieder recitals.
Lehmann had a wide repertoire, although she was renowned for a relatively small number of roles. Apart from Fidelio and the lighter Wagner roles (which also included Elisabeth in Tannhäuser), her Strauss creations (which came to include the title role in Ariadne auf Naxos) and her Puccini heroines, she also sang Donna Elvira in Don Giovanni, Pamina in Die Zauberflöte, the Countess in Nozze di Figaro, Charlotte in Werther, Tatyana in Eugene Onegin, Lisa in Pique-Dame, Massenet's Manon, Rosalinde in Fledermaus, Maddalena in Andrea Chenier and Desdemona in Otello, her single Verdi role. Her dream was to sing Isolde in Wagner's Tristan und Isolde, but like the late Leonie Rysanek (in some ways a comparable artist) she finally chose common sense over potential vocal suicide, though her recording of Isolde's ecstatic "Liebestod" is a tantalizing sample of what might have been.
Lehmann made her U.S. debut in Chicago in 1930, as Sieglinde in Die Walküre. Her old rival from Vienna, the Czech soprano Maria Jeritza, a favorite at the Met during this time, had purportedly forbidden Lehmann's appearance there during her reign. Lehmann's debut in New York, therefore, was in a lieder recital at Town Hall in 1932. The recital was received with such rapture that the Met finally responded with an offer, and she made her somewhat belated debut there in 1934, again as Sieglinde. She was also a favorite in San Francisco, Paris and London, and was a fixture of the Salzburg Festival from 1927-1938.
Like her compatriot, Marlene Dietrich, Lehmann refused the Nazis' overtures and finally, in 1938, had to relocate with her family to the United States after the German annexation of Austria (her husband's children were Jewish). Eventually, she became a naturalized American citizen.
Lieder came to occupy an ever-increasing importance in Lehmann's career as she cut back on her operatic appearances (her farewells to opera were as the Marschallin at the Met in 1945 and with the San Francisco Opera the following year). Though her tone was not as fresh as it once had been, she never developed a wobble and her interpretive powers deepened as her range decreased.
Following her retirement from singing in 1951 (two emotional recitals, one at Town Hall in New York and the other in Santa Barbara, Calif., were preserved in recordings, as was a wealth of other live material over the course of her career), Lehmann increasingly devoted her time and energies to teaching. She was significant in the 1947 formation of the Music Academy of the West in Santa Barbara, where she had retired. She performed there in the academy's early years. offered a series of master classes, and directed several fully-staged opera productions, from Marriage of Figaro in 1956 and to Fidelio in 1961. Her master classes in Santa Barbara that same year were captured by a documentary film crew and have recently been reissued on VAI video (VAI 69232).
In 1962, the year she retired from the Music Academy, Lehmann directed Rosenkavalier at the Met, with a cast that included Régine Crespin, Otto Edelmann, Anneliese Rothenberger and Hertha Töpper. She also continued to give guest master classes in Santa Barbara and elsewhere. Her 75th and 80th birthdays were celebrated in 1963 and 1968 with tributes and honors. Her students included Carol Neblett, Marilyn Horne, Jeannine Altmeyer and Grace Bumbry, and she also coached such established singers as Risë Stevens, Rose Bampton, Eleanor Steber, Dorothy Maynor and Jeanette MacDonald.
In her later years, Lehmann's activities were many and varied. In 1948, she starred in an MGM movie, Big City, playing Danny Thomas' mother in a cast that included Margaret O'Brien, George Murphy and Robert Preston. She took up painting and had several gallery exhibitions. In the late 1950s, at the suggestion of Judith Anderson, she recorded two LPs of German poetry for Caedmon Records, including unforgettable readings of poetry by Goethe, Mörike, Heinrich Heine, Rainer Maria Rilke and Wilhelm Müller. She wrote and published several books, including a novel (published in English in 1937 as Eternal Flight), two autobiographical volumes, a privately published chapbook of her poetry, two books on the interpretation of lieder and the aforementioned Five Operas and Richard Strauss.
Her final years were marred by painfully debilitating arthritis. Lotte Lehmann died in her sleep at her home in Santa Barbara the morning of Aug. 26, 1976 at the age of 88. Her legacy and influence are still felt through the Music Academy of the West and the efforts of the Lotte Lehmann Foundation, which sponsors a thorough and fascinating website (www.lottelehmann.org). The site includes biographical materials, sound clips and a photo gallery, as well as information on the foundation's own efforts to propagate the art of the lied.
Lotte Lehmann Recordings
Richard Strauss said of her "Sie hat gesungen, daß es Sterne rührte" (roughly translated: "She sang, and the stars moved&lrquo;). From her initially awkward stage presence, Lotte Lehmann developed into one of the most subtle and visceral singing actors of all time, on a par with Callas, Claudia Muzio, Jon Vickers and Rysanek. As a lieder singer, she upheld neither word nor music at the expense of the other, but, in the tradition of the best lieder singers, fused the two elements into a new and rarified art form. Compared to cooler and more precise artists such as Dietrich Fischer-Dieskau and Elisabeth Schwarzkopf, she embodied an "old-fashioned" approach to lieder that is borne out in her books on song interpretation but which, remarkably, has stood the test of time.
Lehmann left many recordings, all of which possess that distinctive, haunting, passionate quality that moved and endeared her to so many. It is nearly impossible to choose a few from among such riches, but a few indisputable benchmarks remain. For those who wish to explore this legacy further, the Lotte Lehmann Foundation website also includes a superb guide to current and past CD releases.
Richard Wagner: Die Walküre, Acts I and II (Sieglinde) (with Lauritz Melchior (Siegmund), Emanuel List (Hunding), Margarete Klose (Fricka), Marta Fuchs (Brünnhilde) and Hans Hotter (Wotan), the Vienna Philharmonic and the Orchester der Staatsoper conducted by Bruno Walter and Bruno Seidler-Winkler, Berlin, recorded HMV 1935 and 1938, reissued on Naxos 8.110250-51, EMI CDH 7 61020 2 (Act I) and CDH 7 64255 2 (Act II) and Danacord DACOCD 317-318 (Volume 4 of the Melchior Anthology)
The quality that sets Lehmann apart from any other Sieglinde in history is immediately apparent in these classic recordings. She lives and breathes the role as if she had been born to it. Her passion and urgency are matched in this part only by Régine Crespin and Leonie Rysanek. For once, the designation "unique" is accurate. These recordings represent one of those rare occasions when everything was right—conductor, orchestra, cast—in spite of a piecemeal recording process that was hampered by German political restrictions (Bruno Walter was a Jew).
The passionate duet sequence between Melchior and Lehmann at the end of the first act smolders and erupts like no other performance I've ever heard. The Naxos recording is newly reissued and if their previous catalog is any indication, it should be the best remastering available, as well as the least expensive.
Richard Strauss: Der Rosenkavalier (abridged) (the Feldmarschallin) (with Elisabeth Schumann (Sophie), Richard Mayr (Baron Ochs), Maria Olszewska (Oktavian) and others, the Vienna Philharmonic conducted by Robert Heger, recorded HMV 1933, most recently reissued as Naxos 8.110191-92)
This is the role for which Lehmann is most remembered, and for which she set a standard that arguably has never been surpassed. One can hear in her detailed interpretation the care and connection to text that she brought to her lieder recitals. The warmth and nobility of Lehmann's interpretation, and her insistence that the Marschallin's final renunciation be done with a smile of resignation and not a sense of tragedy, as well as her connection with the essential Viennese quality of the piece, set her portrayal apart. Richard Mayr and Elisabeth Schumann also present portrayals for the ages, though with the passing years Schumann's art has not fared as well as Lehmann's. Numerous live broadcasts of her Marschallin have been released on CD (unavailable in the United States for copyright reasons), offering the significant pleasure of hearing this artist in live performance.
Recordings of operatic excerpts:
The amount of Lehmann material available on CD is overwhelming and downright confusing. Nevertheless, a few compilations—some of which are even reasonably priced—can be recommended over others.
Lotte Lehmann in Opera, Nimbus Records, NI 7873
The Young Lotte Lehmann, Preiser Records, 89302 (3 CDs)
Both of these collections offer a glimpse of Lehmann at the beginning of her recording career, the voice fresh and free, with greater breath control than she exhibited later in her career, but still with a certain devil-may-care approach to the more florid portions of arias. The Nimbus collection includes a primarily German repertoire, while the (admittedly much more expensive) Preiser collection includes two Strauss lieder plus excerpts from Lehmann's French repertoire (Micaëla in Carmen, Antonia in Tales of Hoffmann, Marguerite in Faust, Rachel in La Juive and Manon). Standouts are the Puccini selections, in particular the two Suor Angelica excerpts, all sung in German, as was the fashion of the time even in the largest German and Austrian houses.
Lotte Lehmann - Opera Arias (EMI Records 7 61042 2)
This is probably the best operatic collection of Lehmann on CD. The recordings range from 1924-1933. Unfortunately, it is no longer in print. Happily, many of the selections can be heard on the Lehmann website. Some of these recordings are remakes of arias that she recorded earlier in her career (Freischütz, Oberon, Tannhäuser, Lustigen Weiber, Lohengrin) and show an even greater communicative ability than the earlier versions, though sometimes at the expense of vocal purity. Highlights here include Lehmann's recording of the Fidelio "Abscheulicher," which displays the qualities for which she was best known, her commercial recording of Isolde's "Liebestod," excerpts from Ariadne auf Naxos (the title role; unfortunately she made no recordings of the Komponist), Arabella and two luscious Korngold excerpts, one from Tote Stadt and one from Das Wunder der Heliane (probably my favorite Lehmann operatic recording). Unfortunately, Lehmann's sublime and unsurpassable recording of the duet version of Mariettas lied from Die tote Stadt, with Richard Tauber, is not included here, though it is available on two Tauber collections, one on Nimbus Records (NI 7830), the other on Naxos Records (8.110729), both reasonably priced. Though Lehmann never sang or recorded any other music of Franz Lehár, her recording of "Im heimlichen Dämmer" from Eva can stand next to Tauber's Lehár recordings as an exemplar of the elusive Viennese operetta tradition.
Lotte Lehmann - Opera and Lieder (Pearl Records GEMM CDS 9234, 2 CDs)
This collection functions as an adequate stopgap in the absence of the EMI collection listed above. The recordings range from 1927-1941, including the Fidelio, Freischütz, Oberon; several Wagner excerpts; samples of Lehmann's Manon, Butterfly and Marschallin; as well as her 1941 recordings of Schumann's Frauenliebe und -leben and Dichterliebe with Bruno Walter at the keyboard, although it must be admitted that neither of these is among her most successful or significant lieder recordings. As a bonus, however, we have Lehmann singing two Christmas carols with such fervor and devotion, it sounds as if she were inventing them on the spot. (The "O du fr&oum;hliche" can also be heard on Nimbus' Spirit of Christmas Past recording, NI 7861, which includes priceless holiday excerpts from other great singers).
Recordings of Lieder:
The bulk of Lehmann's recorded lieder output comes from the later years of her career. Her earlier lieder recordings are hampered by ungainly salon orchestra accompaniments. She recorded for two different companies in the United States between 1935-1949: RCA (now BMG) and Columbia (now Sony). All of the RCAs and many of the Columbias have been reissued on a number of mid-priced Romophone CDs that, according to the Romophone website (www.romophone.co.uk), are still available. For those who wish to have her benchmark recording of the complete Schubert Winterreise in the proper sequence, it is currently available in a marvelous remastering on Pearl GEMM 0033.
The Victor Recordings, 1935-1940 (Romophone Records, 81013-2, 2 CDs)
This may be the most significant of the Romophone reissues. We get a wide sampling of Lehmann's art song repertoire, including songs of Mozart, Schumann, Schubert, Brahms and Wolf, as well as more unusual fare in English and French. The collection also includes five charming Schumann duets with Lauritz Melchior (unfortunately, with salon orchestra accompaniment) and approximately half of the songs from Winterreise (she recorded the remainder the following year for Columbia). Lehmann's way with Schubert, Schumann and Brahms is to be expected. Witness her aching recording of Brahms' "Der Tod, das ist die kühle Nacht." What is more surprising is her response to the more rarified, harmonically tortured music of Hugo Wolf, direct, artifice-free, a welcome antidote to the archness that Schwarzkopf brought to this repertoire.
Lieder by Schubert, Brahms, Wolf, Wagner & Strauss (Romophone Records, 81032-2, 2 CDs)
Lehmann made these recordings for Columbia in 1941 and 1942. They include a complete version of Schubert's Die Schöne Müllerin that gains in momentum and pathos as it progresses, several peerless Brahms recordings (including a "Da unten im Tale" that will break your heart), four of the Wagner Wesendonck-Lieder and several Richard Strauss songs that reinforce her special way with his music. The prize of this collection may be the bouquet of six Viennese songs that closes the second CD. The gentle longing of her interpretations, the quintessential Viennese lilt, her kaleidoscopic inflection of the texts, the ineffable combination of pathos and "smile" in her voice are enchanting beyond words.
The Complete RCA Victor Recordings, 1947-1949 (Romophone Records, 81033-2, 1 CD)
Lehmann's final commercial recordings, made more than 30 years after her first discs, no longer exhibit the same freshness she showed even a few years earlier, but there are gems here, nonetheless. Brahms' Zigeunerlieder burst from her throat with blistering aplomb, while Schubert's "Nacht und Träume" tears at the heartstrings. Several French songs by Reynaldo Hahn, Henri Duparc and Emile Paladilhe, are surprisingly idiomatic. Richard Strauss' "Du meines Herzes Krönelein" is sung with melting tenderness while Irving Berlin's "God bless America" rings forth with such simple fervor and faith that even a supreme curmudgeon couldn't fail to be moved by the genuine emotion she wrings from the piece.