Franco Corelli (1921-2003): A Voice of Lightning, Thunder and Blood
As published in Classical Singer magazine, February 2004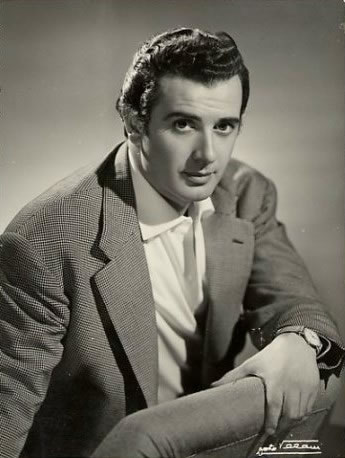 Now Corelli is gone. No other tenor of the late 20th century generated as much excitement—or controversy. As famous for his matinee-idol looks as for his clarion voice and animal magnetism, he combined nervous idiosyncrasies with technical adeptness, the latter perhaps surprising for one primarily self-taught. From the beginnings of his career, in Spoleto in 1951, through his early and sudden retirement from the Met in 1975, his fans were as strident in their adulation as his detractors were in their deprecation.
His career, while a relatively short one, followed an unusual trajectory, in that he assumed the more lyrical roles of Rodolfo in La bohème, Werther, and Roméo after such heavier fare as Radamès in Aïda, Enzo in La Gioconda and Alvaro in La forza del destino. Happily, many of the finest moments in his career are preserved in live and studio recordings, as well as television appearances and film—a priceless legacy that gives a glimpse into what the excitement was all about.
Franco Corelli was born April 8, 1921 in Ancona, in the region of Le Marche, Italy, on the coast of the Adriatic Sea. Other famous singers from the region include his great tenor predecessor, Beniamino Gigli, born in Recanati, and the sopranos Renata Tebaldi, born in Pesaro, and Anita Cerquetti, born in Macerata, both among the tenor's most distinguished colleagues. He grew up in a musical family, attending performances at the opera house in Ancona with his father and grandfather. This theater was destroyed in 1943, during World War II. One story says that Corelli, a young untrained amateur, made his way onto the stage of the bombed-out theater by way of a shaft of light from a hole in the roof, trying out his voice there and startling a flock of pigeons into flight.
Corelli was always drawn to the sea and, indeed, began training as a naval engineer at the University of Bologna. There, a friend, an amateur singer, persuaded him to enter a vocal competition. Though he did not win, he was encouraged enough that he entered the Pesaro Conservatory. His training there was so misguided (or misunderstood) that he lost his high notes and dabbled with the idea of becoming a baritone instead. (Indeed, throughout his career, he retained a strong lower register—and a strong distrust for teachers of singing.)
With occasional guidance from Arturo Melocchi (who also taught Mario del Monaco, the other great Italian dramatic tenor of that period), Corelli gradually regained his high voice. He learned the most, however, through immersion in and constant study of the recordings left by his great tenorial predecessors, particularly those of Enrico Caruso, Giacomo Lauri-Volpi and Aureliano Pertile. In addition, beginning in the mid-sixties, Corelli spent a significant portion of his summer vacations at Lauri-Volpi's home in Valencia, where he and his mentor would spend hours singing together and comparing notes on vocal technique. Thus, he developed a technique that stood him in good stead for the duration of his career.
To some, Corelli was a "bull in a china closet," but this technique lent his singing a surprising amount of nuance, the ability to diminuendo a high note from the most clarion forte to the most delicate pianissimo. This effect can be heard in his rendition of "Celeste Aïda" from his 1966 EMI studio recording of the complete opera and, even more impressively, in countless live performances.
In 1951, Corelli won a competition sponsored by the Maggio Musicale in Florence. From there, he debuted in Spoleto (in the days before the Spoleto Festival). In a characteristic act of self-doubt, Corelli fretted over his ability to master the technical demands of Radamès in Aïda and had the role of his debut changed to Don José in Carmen, which he felt better suited his visceral, as yet undisciplined delivery. His success led to his engagement by the Rome Opera for Zandonai's Giulietta e Romeo.
Over the next few years, Corelli sang not only in Rome, but in Florence, Ravenna, Trieste, Palermo and elsewhere in Italy, in the expected Carmen and Tosca as well as Prokofiev's War and Peace, Mussorgsky's Boris Godunov, Norma (his first encounter with Maria Callas), Gluck's Iphigénie en Aulide, Spontini's Agnese di Hohenstaufen, and two long-forgotten world premieres. Perhaps the most surprising role assumptions of his career were Handel's Sesto in Giulio Cesare, with Virginia Zeani and Giulietta Simionato, (Rome and Milano, 1955 and 1956) and Hyllus in Hercules (or Eracle!) at La Scala in 1959 with Fedora Barbieri and Elisabeth Schwarzkopf.
In December of 1954, he made his La Scala debut, opening the season as Licinio in the legendary Luchino Visconti production of Spontini's La Vestale, opposite Maria Callas and Ebe Stignani. In a thankless role, Corelli nevertheless made a strong impression, thanks in part to his matinee-idol looks and his statuesque build. Indeed, he was known in the Italian press and among his adoring fans as coscie d'oro (golden thighs).
He opened each season at La Scala from 1959-60 through 1964-65 in operas as diverse as Donizetti's Poliuto, Verdi's La Battaglia di Legnano as well as his signature roles in Andrea Chenier, Cavalleria rusticana, Trovatore and Turandot. Other memorable portrayals at La Scala included the title role in Ernani, Dick Johnson in Fanciulla del West, Raoul in Les Huguenots, Loris in Giordano's Fedora and Gualtiero in Bellini's Il Pirata. After 1965, he no longer appeared at La Scala.
Callas and Corelli's career paths crossed many times. Indeed, it has been suggested that Callas played a significant part in securing Corelli's La Scala debut as Licinio. Corelli partnered her there in 1955 as Loris in Fedora and was also at her side for many of the more vulnerable moments in her later career, beginning with the infamous "Rome walkout," when Callas canceled a January 1958 performance of Norma mid-performance due to an indisposition (this in spite of the presence of the president of Italy in the audience).
They appeared as Gualtiero and Imogene in a new production of Bellini's Il Pirata in 1958 that ended with Callas' stormy exit from La Scala until her eventual return, again alongside Corelli, in Donizetti's Poliuto in 1960 (her last new production in that theater and one in which Corelli scored one of his greatest triumphs, even if Callas did not). He also appears opposite her in the 1960 EMI studio recording of Norma (one of her last complete recordings, and one of his first) and again sang Pollione to her Norma in her final performances at the Paris Opéra in 1964. In 1965, he was Cavaradossi in her farewell Met performances as Tosca.
There were many other divas with whom he often shared the stage. Renata Tebaldi was a frequent colleague, beginning in 1958 with Tosca and Forza in Naples, through Adriana Lecouvreur at the Met in 1963 and 1968, and in a series of duo recitals late in their respective careers. On one of the most remarkable evenings at the old Metropolitan Opera—Jan. 27, 1961— Corelli shared his Metropolitan Opera debut in Il Trovatore with Leontyne Price. He also appeared opposite her in innumerable Met performances of La forza del destino, Aïda, Ernani and Tosca.
Less than a month after his debut as Manrico, Corelli made an even stronger impression singing Calaf in Turandot opposite Birgit Nilsson, the first Met performances of this opera in more than 30 years. These two powerhouses faced off as (usually) friendly rivals in this opera, as well as the occasional Aïda and Tosca.
There is an oft-repeated tale of an onstage tussle between the two in Act Two of a Met Turandot run-out performance in Philadelphia (in the days when the Met used to do occasional performances at the Academy of Music there). On that occasion, Nilsson held her high C longer than Corelli and he stomped off the stage in a fury. Rudolf Bing, the general manager of the Met, used all his powers of coercion to cajole an enraged Corelli into continuing his performance, suggesting that in lieu of their third-act kiss Corelli should bite his soprano rival instead. Assured that Corelli would continue, Bing departed the theater to return to New York, perhaps, as Nilsson suggests in her autobiography, for fear of what onstage fireworks would subsequently transpire.
Depending on whom one believes, Nilsson, Corelli or Bing, the third-act maceration either did or did not take place, but either way, Nilsson found out about Bing's suggestion and sent him a telegram the next day: "MUST CANCEL NEXT PERFORMANCE STOP HAVE RABIES STOP BIRGIT"
Throughout his Met career, Corelli continued to make important guest appearances in London, Paris, Vienna, Salzburg, Lisbon and Barcelona, but came to spend more and more time in the United States, either in New York or on the Met spring tour. In the mid-sixties his appearances outside the United States became increasingly rare.
Corelli surprised more than a few of his followers when, later in his career, he took on Rodolfo in La bohème, Roméo (both in 1964) and Werther (in 1971), roles normally associated with more lyric voices. These assumptions, particularly of the French repertoire, proved controversial, though there are those who found his portrayals definitive, in spite of the stylistic inconsistencies and linguistic infelicities. On the other hand, fans waited in vain for his assumption of roles such as Arnold in Guillaume Tell, Des Grieux in Puccini's Manon Lescaut and, particularly, Otello. Rudolf Bing sought to have Corelli open Bing's final season at the Met as Otello, but it was not to be, All we have of Corelli's Otello is a 1954 studio recording of the first-act entrance, a live recording of the love duet with Teresa Zylis-Gara from the 1972 Met Gala in honor of Bing and, from Corelli's final public appearance in 1981, a live recording of Otello's death scene.
Corelli's nerves and anxiety attacks in the theater were legendary. His wife, Loretta, (a former singer herself) would stand in the wings sprinkling holy water, holding a picture of the Madonna to calm his nerves and coax his best performances. Rudolf Bing claimed that he more than earned his salary merely tending to Corelli's nervous demands. Corelli himself acknowledged that on many occasions, he was more concerned about his voice than with acting or communication. And yet, there were many performances in which the singer, clearly at ease, would give more fully of himself, and his stage presence and acting would acquire a naturalness that was sometimes lacking. A 1953 Tosca filmed for Italian television, for instance, reveals more subtlety and intimate dramatic insight than his detractors gave him credit for.
Eventually, though, Corelli's nerves proved his undoing. Live recordings from the '70s bear testament to a greater nervous tension, which led to an occasional thickening of his voice and a less consistent emission. Eventually, he decided to take a hiatus from singing, which, it gradually became apparent, was actually a retirement. Apart from two informal concert appearances in New Jersey in 1980 and 1981, his final appearances in opera were as Rodolfo in La bohème in Torre del Lago in 1975.
Corelli and his wife remained in New York, where he taught a few pupils, for many years. Eventually, he moved back to Italy, living out his final years in Milano, where he died on Oct. 29, 2003 at the age of 82.
Even those of Corelli's colleagues who had difficulty with his tenorial antics (and his beloved black poodle) respected him as a person. A gentle and modest man, he greatly valued his privacy. He took his calling very seriously, and many of his fellow artists commented that Corelli never seemed to enjoy his enormous success. As Corelli himself said in a mid-sixties interview, "I sleep music. I see notes in my dreams. I never rest because I am always trying to improve myself. If I have three months of absolute freedom, I use them to project my technical instrument. Without it I am nothing."
There is much anecdotal material available online and in books about the man, but no full-scale authorized biography. Corelli gave his consent for the sole published biographical study only with the provision that the author not discuss his private life. Though it contains useful appendices and a thrilling CD of live performances, the body of the book reads like a fan magazine. One hopes that the gap created by the lack of a serious biographical consideration will be filled someday soon.
On the other hand, if there was ever a singer who needed to be heard and not written about, it was Corelli. The combination of virility and pathos in his singing made him unique. This is not to say that he lacked faults. Two characteristics of his singing are particularly off-putting to contemporary listeners: an explosiveness of attack and release in his delivery and a marked lisp that is particularly invasive in his studio recordings. (Some fans claim that this was no speech impediment, merely the regional dialect of his native Le Marche.) Even his detractors, however, acknowledge his superior voice and technique.
The white-hot animal intensity of Corelli's best performances will probably never be matched. For many, he remains the greatest tenor of the last century. What You Can Learn From Corelli's Best Recordings Studio recordings
For a singer of his stature, Corelli's work in the recording studio was relatively limited. For the Italian label Cetra between the years 1956 and 1959, he recorded a number of arias, excerpts from La forza del destino and Carmen (in Italian) and a complete Aïda. For EMI, between 1960 and 1968, he recorded eight complete operas, including his signature roles in Il Trovatore, Andrea Chenier, Turandot, Roméo et Juliette, Pagliacci, and Cavalleria rusticana (as well as the previously mentioned Aïda and Norma) and four recital discs.
For RCA, he recorded two versions of Carmen, each with a less-than-ideal Carmen (Leontyne Price in 1964 and Anna Moffo in 1970, his last complete studio recording). For London/Decca he recorded Faust with Joan Sutherland (a role he never sang onstage), Tosca with Birgit Nilsson and a 1973 duet album with Renata Tebaldi, when both were past their primes.
The Very Best of Franco Corelli (EMI 7243 5 85084 2 0, two discs, recorded 1960-1968). Probably the best overall compilation of Corelli's studio recordings, this collection includes arias and duets from each of the complete operas Corelli recorded for EMI-Angel, plus the bulk of his supreme 1961 aria recording. That recital (and the cuts used on this recording) included excerpts, both from operas he sang onstage (Les Huguenots, La Gioconda, Adriana Lecouvreur, Tosca) and those he did not (La favorita, I puritani, Manon Lescaut). This collection also includes a few miscellaneous highlights from albums of Neopolitan songs and sacred arias. Some personal favorites: "A te o cara" from Puritani (probably the most virile performance of this aria ever), "Celeste Aïda" (with that amazing diminuendo at the end), "Nessun dorma" from Turandot (the way it's supposed to sound!), the tomb scene from Roméo (a cathartic performance, French diction aside), a "Donna non vidi mai" that makes one regret that he never sang a complete Manon Lescaut, an anachronistic "Largo" from Handel's Serse that thrills in spite of itself, and a no-holds-barred, definitive recording of the Neopolitan song "Core 'ngrato."
The Unknown Recordings (EMI 7243 5 562699 2 7, recorded 1964 and 1967). A batch of never-before-issued performances, released with Corelli's approval just before his death. Most of the selections are the unfinished portion of a second album of operatic arias, with the exception of two arias (from Ballo in maschera and Trovatore) that were recorded over a pre-existing orchestral track. The collection includes selections from his stage repertoire (La forza del destino, Macbeth (the last new role Corelli took on), Ernani, Roméo, and most touchingly, a fragment of "Che gelida manina" from La bohème), concert repertoire ("La donna è mobile" from Rigoletto and a stunning "O souverain, ô juge, ô père" from Le Cid), as well as arias he appears never to have otherwise sung ("Nel verde maggio" from Catalani's Loreley and a flawless "Quando le sere al placido" from Luisa Miller). Not the place to start a Corelli collection, but definitely a valuable supplement.
Puccini: Turandot (EMI 0777 769327 2 9, two discs, with Birgit Nilsson, Renata Scotto, Bonaldo Giaiotti, the Orchestra e Coro del Teatro dell'Opera di Roma conducted by Francesco Molinari-Pradelli, recorded 1965). Perhaps the greatest of Corelli's studio recordings, it pits the two powerhouses (Nilsson and Corelli) against each other with mind-blowing results. Though Corelli sings the "Nessun dorma" better on his 1961 EMI aria recital, his performance here is still breathtaking and the supporting cast, particularly Scotto, is excellent. The Riddle Scene in Act Two captures a good deal of the crackling excitement of their live performances.
Verdi: Aïda (EMI 0777 763229 2 6, two discs, with Birgit Nilsson, Grace Bumbry, Mario Sereni and Bonaldo Giaiotti, the Orchestra d Coro del Teatro dell'Opera di Roma conducted by Zubin Mehta, recorded 1966). Nilsson is heard to slightly less congenial advantage as Aïda than as Turandot, but Corelli covers himself with glory as Radamès and Grace Bumbry is a stellar Amneris. Their Fourth Act confrontation is a highlight of the set. A disc of highlights (74133) is available on EMI's budget Seraphim label.
Puccini: Tosca (Decca 460753, two discs, with Birgit Nilsson and Dietrich Fischer-Dieskau, the Orchestra e Coro dell'Accademia di Santa Cecilia, Roma conducted by Lorin Maazel, recorded 1966). Corelli is in great voice as Cavaradossi, one of his most frequent assumptions. His stentorian Act Two outburst on "Vittoria" is in marked contrast to his sensitively-phrased "E lucevan le stelle" in the Third Act, crowned with a breathtaking diminuendo on a high A. Birgit Nilsson is unidiomatic but exciting as Tosca, though Fischer-Dieskau nearly ruins the recording, with a bizarrely artsy-fartsy Scarpia.
Live recordings
Corelli's most thrilling recordings are emphatically his live ones. Having to contend with scrappy ensemble, boxy sound and audience noise is a small price to pay for what one gets in return: Corelli (and some highly distinguished, often under-recorded, colleagues) in thunderously good voice, wringing every last ounce of expression from the music. Many of the best live recordings are of Met performances, which are unfortunately barred from release in this country, but which can be obtained from various European and Canadian sources, many of them online. The recordings referenced here are all legally available in the United States.
Puccini: La fanciulla del West (Opera d'Oro 1318, two discs, with Gigliola Frazzoni, Tito Gobbi, Nicola Zaccaria and Enzo Sordello, the Orchestra e Coro del Teatro alla Scala di Milano conducted by Antonino Votto, recorded April 4, 1956). One of the most rip-roaring performances ever of this "spaghetti Western" opera. Corelli's "Or son sei mesi" in the Second Act is superhuman in its power. Gigliola Frazzoni is a kamikaze Minnie; her hysterics at the end of Act Two are positively hair-raising, while Tito Gobbi creates a more multi-faceted Rance than usual. Ensemble is substandard, as is the recorded sound, but the performance itself is extraordinary. This recording almost compensates for the lack of live Scala recordings of Fedora with Corelli and Callas the following month or the 1958 Callas-Corelli Pirata, one of his greatest successes.
Puccini: Tosca (Opera d'Oro 1349, two discs, with Zinka Milanov, Giangiacomo Guelfi and Forbes Robinson, the Orchestra and Chorus of the Royal Opera, Covent Garden conducted by Alexander Gibson, recorded July 1, 1957). Corelli and Milanov's paths crossed very few times, perhaps because the sun was setting on her career as his was gaining momentum. The occasion of this recording is Corelli's Covent Garden debut, where both singers appeared but rarely; they are both in stunning voice here. All the characteristics of a great Corelli performance are here, and presented in a more than slightly over-the-top manner that seems to excite even the staid British public. The performance includes one of his most exquisitely-turned performances of the Third Act aria "E lucevan le stelle."
Bellini: Norma (Living Stage LS 40351124, two discs, with Anita Cerquetti, Miriam Pirazzini and Giulio Neri, the Orchestra e Coro del Teatro dell'Opera di Roma conducted by Gabriele Santini, recorded January 4, 1958). This is the performance of Norma that followed the infamous Callas "Rome walkout." Corelli is in thrilling voice, blazing forth particularly at the end of Act One. He finds a memorable partner in the under-recorded Anita Cerquetti, who is a Norma of nobility and substance. Pirazzini is a mediocre Adalgisa, but this performance belongs to Cerquetti and Corelli.
Cilea: Adriana Lecouvreur (Hardy HCA 6007-2, two discs, with Magda Olivero, Giulietta Simionato and Ettore Bastianini, the Orchestra e Coro del Teatro di San Carlo Napoli conducted by Mario Rossi, recorded Nov. 28, 1959.) Probably the greatest-ever performance of this minor opera, which, in the hands of these singers, sounds like great lyric tragedy. Magda Olivero, herself recovering from major surgery, jumped in at the last minute to replace an ailing Renata Tebaldi, and is the Adriana of one's dreams. Her death scene is unique in the history of recorded opera. Corelli is in refulgent, generous voice and his scenes with Olivero blaze with passion that grips the listener. Simionato and Bastianini brilliantly round out this matchless cast.
Meyerbeer: Les Huguenots (Gli Ugonotti) (Gala 100.604, three discs, with Joan Sutherland, Giulietta Simionato, Wladimiro Ganzarolli, Giorgio Tozzi, Nicolai Ghiaurov and Fiorenza Cossotto, the Orchestra e Coro del Teatro alla Scala di Milano conducted by Gianandrea Gavazzeni, recorded May 28, 1962). Meyerbeer's historical importance has never been in doubt, but actual performances of his operas are few and far between. These performances constituted the first major Meyerbeer revival in decades, but those anticipating a dull evening in the theater were more than pleasantly surprised. Corelli has gone on the record stating that this was the most difficult role of his career. The risk paid off, however: this may well be the greatest singing of his entire career. The Fourth Act duet with Simionato is one of the most exciting examples of full-throttle singing ever recorded. The rest of the cast is magnificent as well, but it is Corelli and Simionato as Raoul and Valentine who cover themselves in glory.
Verdi: Il trovatore (Gala 100.505, three discs, with Leontyne Price, Giulietta Simionato, Ettore Bastianini and Nicola Zaccaria, the Chor der Wiener Staatsoper and the Wiener Philharmoniker conducted by Herbert von Karajan, recorded July 31, 1962). This recording captures Price and Corelli a year and a half after their joint Met debuts, with a superior Azucena (Simionato), di Luna (Bastianini) and conductor than on that occasion. Corelli excels in a role some consider his greatest, veering effortlessly between the tender lyricism of "Ah, sì, ben mio" and the clarion trumpeting of "Di quella pira." It was Karajan who described Corelli's Manrico as "a voice of heroic power, yet with great beauty of tone; darkly sensuous, mysteriously melancholic... but above all, a voice of thunder and lightning, fire and blood."
Mascagni: Cavalleria rusticana (Myto MCD 031.274, with Giulietta Simionato, Giangiacomo Guelfi and Gabriella Carturan, the Orchestra e Coro del Teatro alla Scala di Milano conducted by Gianandrea Gavazzeni, recorded Dec. 7, 1963). A white-hot intensity pervades this recording that must be heard to be believed. Simionato is heart-rending as Santuzza and Corelli matches her decibel for fiery decibel in their central duet. Corelli was much more of a Turiddo than a Canio, and this recording shows him at his best in this role, far superior to his EMI studio effort with a (here) pallid Victoria de los Angeles, miscast as Santuzza.
Ponchielli: La Gioconda (Bel Canto Society 5015, three discs, with Mary Curtis Verna/Renata Tebaldi, Mignon Dunn, Cesare Bardelli/Anselmo Colzani and Bonaldo Giaiotti, the Orchestra and Chorus of the Philadelphia Lyric Opera conducted by Anton Guadagno, recorded Feb. 18, 1964 and Oct. 18, 1966). These two performances (the first complete, the second in substantial excerpts) show what a magnificent Enzo Corelli was. For once, this opera is about more than just the soprano. Corelli's two performances of "Cielo e mar" are ardently compelling, even better than his live 1962 Met performances with Eileen Farrell and his confrontations with two contrasting Giocondas make for powerful theater.
Puccini: Turandot (Myto MCD 982.181, two discs, with Birgit Nilsson, Galina Vishnevskaya and Nicola Zaccaria, with the Orchestra e Coro del Teatro alla Scala di Milano conducted by Gianandrea Gavazzeni, recorded Dec. 7, 1964). This recording accurately and thrillingly captures the onstage fireworks generated by Nilsson and Corelli in so many live performances of this opera. Galina Vishnevskaya is an unidiomatic but fascinating Liù. Some technical blemishes mar the actual recording, but the battle of the high C's in the Riddle Scene of Act Two must be heard to be believed and "Nessun dorma" thrills beyond words.
Verdi: Don Carlo (Opera d'Oro 1131, three discs, with Gundula Janowitz, Shirley Verrett, Eberhard Wächter, Nicolai Ghiaurov and Martti Talvela, the Chor der Wiener Staatsoper and the Wiener Philharmoniker conducted by Horst Stein, recorded Oct. 25, 1970). Don Carlo was one of Corelli's more interesting dramatic portrayals, and his performance here is matched by the rest of the cast, in particular Shirley Verrett, who nearly walks away with the performance. Corelli presented Don Carlo as a Hamlet-like personage, and the character emerges with much more profile and virility than is normally the case with this role.
Franco Corelli in Parma, Volumes 1 and 2 (Myto 924.64 and 944.108, recorded in Parma, Jan. 1, 1961 (Trovatore), Jan. 21, 1967 (Tosca), Dec. 26, 1967 (Forza) and Dec. 29, 1971 (Norma)). Corelli often quoted Tito Gobbi as saying that singing was like playing a sport. While Gobbi was referring to the physical demands of singing, these excerpts from live performances from Parma have the feel of the sports arena to them. Corelli's cry of "Vittoria" in Act Two of Tosca lasts for more than 15 seconds, and the crowd goes wild. The other principals here are mostly provincial, but it's Corelli's show, and he is at his most visceral and animalistic here. Though these recordings are no longer easy to find, they are not only a great deal of fun, they also give some indication of the wild response that Corelli elicited drew from his public.
Video recordings
Seeing Corelli in action, either in front of a television camera, a soundstage or filmed live onstage, is vital to appreciating his artistry. There are videos of Corelli in performance on American TV variety shows (such as The Ed Sullivan Show or The Voice of Firestone), in filmed stage performances (a 1958 Forza del destino, from Naples, for example), on film (a 1956 theatrical-release of Tosca with Franca Duval lip-synching to the singing of Maria Caniglia) and in made-for-television versions of signature roles (a 1955 Tosca, a 1958 Turandot and a surprisingly effective 1973 Andrea Chenier, among others). Though the technical quality of these videos varies greatly, all of them are worth watching, particularly the Chenier and the Turandot.
The Bel Canto Society (www.belcantosociety.org) and Premiere Opera Ltd. (www.premiereopera.com) offer the widest selection of videos as well as a smattering of live audio recordings. The Bel Canto Society also offers online streaming audio re-broadcasts of Corelli, as interviewed by Stefan Zucker on his late, lamented Opera Fanatic radio program. These can be rather heavy-going, but there are fascinating tidbits scattered throughout these rambling conversations.